Les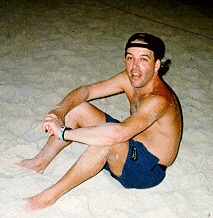 This is Les (relaxing in the Carribean). This guy is almost singly responsible for reviving MPVA, working hard to recruit new blood, organizing activities, etc.
Jim M. of MPVA tells me that Les does only 4 things in life: eat, sleep, work, and play volleyball. Well, I don't know about the first three, but he excels at the fourth. An awesome cut shot and strong spike are the strong points of his arsenal. The rest of his game is superior, though we disagree as to the value of his low passes (had to throw that in, good buddy...). And his dedication to the game is unsurpassed, constantly striving to improve.
Speaking non-volleyball, the only thing I can say , is that he is a great guy, but that sense of humor goes over the edge sometimes,to the point that maybe it is best understood in bizarro world.
LES' BEST QUOTES:

"no one gets SPECIAL DISPENSATION on the volleyball court!"
"YOU GOTTA BE SHITTIN' ME!!!!!!!!!!!
"KISMET!"
His best biblical quote: "LET HE WHO IS WITHOUT SIN LIVE IN A GLASS HOUSE"