CANARSIE NOSTALGIA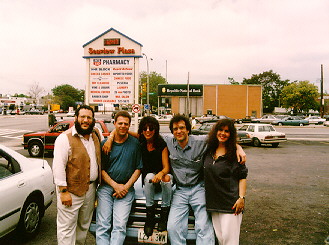 On May 31, 1997, some zany AOL baby boomers gathered at their old neighborhood, Canarsie, for some fantastic memories. Old acquaintances were renewed by people, some of whom hadn't seen each other in more than 25 years. Even the barber who gave us haircuts 35 years ago wandered by accidentally! The only thing missing was Ruby selling knishes, and Jenkins the security guard kicking us out of the park...Somehow I felt that they were there, somehow...in spirit...
Some of us toured through the Bayview Projects, and had the shock of our lives when we saw the famous 'lots' actually mowed, with construction being undertaken. Hey, it took 50 years, but it finally happened!!
The picture you see was taken from the famous 'corner candy store', as I called it, in the Bayview Project Shopping Center. In the background is Seaview Avenue. On the left is the intersection with Rockaway Parkway. From left to right are: MARK,SHELLY,EILEEN,ARNIE,MERRI
After the tour, some of us went to Grabstein's Deli, while the wild ones you see in the picture went off to the restuarant on Canarsie Pier, obviously to drink away the day...