ALYSON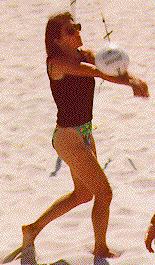 This is Alyson, my beach volleyball doubles partner and good buddy. Alyson carries the team; I'm just along for the ride, and the ride includes a 1st place at a Queensborough grass-tourney (1992), a 2nd at Sandy Hook (1993), and our first beach win at Long Beach (1995). When at the top of her game, Alyson provides faultless passing, good setting, and smart hitting. She is the brains of our duo (the alternative is too horrifying to contemplate...), tirelessly considering and laying out our strategy before and during the game.


Our greatest feat was the '92 win at Queensborough. Down 10-4 in the finals to a team we had already lost to by 11-0 in pool play, we stormed back to win 12-10... I'll never forget that. I owe it all to her.


Alyson's competitiveness is legendary, and she is willing to fight to the last drop of MY blood. In the semi-finals at Long Beach, with the score 12-12, I stepped on a piece of glass. My foot bleeding, our opponents asked if we needed a time-out. With NO hesitation, Alyson yelled out "HE DOESN'T NEED A TIME-OUT, LET'S PLAY". We of course won the tourney, and I spent the next 2 months limping around...
By the way, I won't tell you how old my partner is, but I guarantee you that she is older than whatever guess you made. She's in remarkable condition, as you can see.